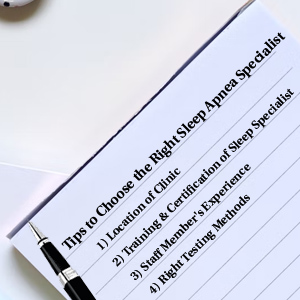 Sleep difficulties are reported by more than one-third of American adults. Generally, adults require seven to nine hours of sleep per night to feel rested the following day and remain healthy. There is a significant correlation between sleep duration of fewer than seven hours per night and chronic conditions like mental health problems.
It is time to consult a medical sleep expert if you have difficulty sleeping every night. In our previous blog, we explained 3 reasons why sleep dentistry in Austintown is highly sought after. However, if you suffer daily from a sleep disorder like sleep apnea, it is imperative that you receive the appropriate treatment and sleep medicine from the right specialist.
Who is a Sleep Specialist?
A sleep specialist is a physician who diagnoses and treats sleep disorders. With sleep medicine in Youngstown, your specialist will diagnose and treat sleep disorders and prescribe the proper treatment. Conditions like sleep apnea, narcolepsy, restless leg syndrome, and others can be effectively identified and treated by experienced specialists.
4 Tips to Choose the Right Sleep Apnea Specialist in Hudson:
What Kind of Sleep Specialist is Right for You?
There are many different types of sleep medicine doctors, each with their areas of expertise and specialization. Sleep disorders are commonly treated by neurologists, psychiatrists, pediatricians, and family physicians. It is essential to consult a specialist at a sleep clinic in Hudson if you are still determining which type of physician is best for you.
Are you ready to book an appointment with your nearest apnea specialist in Hudson? Contact our office and Dr. Charles R. Verbanic - Sleep Easy Dental Spa for further information or assistance. Your continued health and well-being are of the utmost importance to our team, and we can get you the care you need. Get help with your sleep problems by calling today!
---