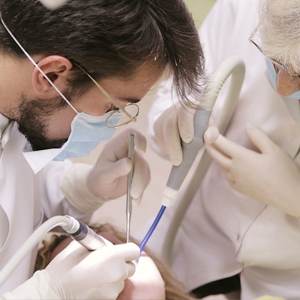 Do you have a hard time getting a good night's sleep? Do you frequently experience breathing difficulties during the night? You might be one of those millions of people who suffer from sleep apnea, a sleep disorder that can have a serious impact on your health as well as your ability to function during the day. In a previous blog post, we explained a guide to choosing a sleep apnea specialist for the right treatment. However, if you experience a sleep disorder such as sleep apnea daily, It is important to seek proper treatment and medication from a qualified specialist.
If you experience such sudden interruptions and stops during sleep, you may wonder whether your general dentist can assist you or if you should reach out to sleep dentistry in Austintown.
Can You Approach A General Dentist for Sleep Apnea?
Yes, you can. General dentists are typically not the primary healthcare providers for treating sleep apnea, but they can help manage mild or moderate apnea cases. Most general dentists are trained in dental sleep medicine, which employs various therapies and treatments to treat sleep-disordered breathing issues such as snoring and obstructive sleep apnea.
It is wise to seek the services of a sleep dentist in Niles for your sleep apnea. Even if they cannot provide complete treatment, they will thoroughly examine and guide you to the most appropriate option.
How Does a General Dentist Treat Sleep Apnea?
CPAP:

The most common treatment for sleep apnea is using a continuous positive airway pressure (CPAP) machine, which delivers air pressure through a mask worn during sleep that keeps the airway open. However, some people find the CPAP machine uncomfortable and may prefer alternative treatments.

Oral Appliances:

An oral appliance is one alternative option a general dentist can provide. These appliances reposition the jaw and tongue in a way that helps keep the airway open during sleep. They are custom-fitted by our dentists at sleep dentistry in Austintown and are a more comfortable option than CPAP.

Identify and Treat Contributors:

General dentists may help with sleep apnea by identifying and treating any dental problems contributing to the disorder, like a large overbite or a small jaw. In such cases, a general dentist may recommend orthodontic treatment or jaw surgery to help alleviate the problem.

Recognize Signs and Symptoms:

General dentists with sleep dentistry in Hudson can identify sleep apnea by recognizing the signs and symptoms during routine dental check-ups and referring patients to a sleep specialist for diagnosis and treatment.
It is important to note that while general dentists can play a supportive role in managing sleep apnea, the primary healthcare provider for this condition is a sleep medicine specialist. A general dentist can work with a sleep medicine specialist to provide the best possible treatment for the patient.
Do You Need Sleep Apnea Treatment Today?
General dentists can help with sleep apnea in multiple ways, either by getting you reliable treatment or guiding you to sleep specialists to work with. Would you like to make an appointment with our expert general dentists to treat your apnea?
Our experienced sleep clinic in Liberty Township specialist - Dr. Charles R. Verbanic - Sleep Easy Dental Spa knows how apnea can affect your life and are committed to improving your quality of life. Transform your life for the better by visiting us today! Or dial us at 330-752-6226 right away!
---