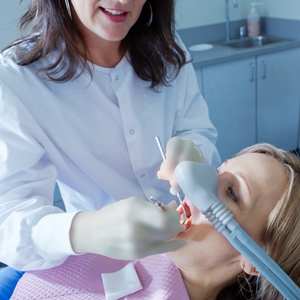 Are you that one person who is scared of dental treatments? Then sleep dentistry is tailor-made for you. This innovation in dentistry will help you relax. You will go through the entire treatment procedure peacefully. This will make dental care easy for you and your dentist. In our previous blog, we have explained 5 reasons you need to visit sleep apnea doctors in Youngstown. However, many dental clinics across Youngstown and surrounding locations offer sleep dentistry. If you are in Youngstown, Hubbard, Hudson, Austintown, Niles, Girard, or Liberty Township, consider Sleep Easy Dental Spa for sleep dentistry.
What is Sleep Dentistry?
During dental treatment, a sleep center and an apnea specialist, use sedation dentistry to keep you relaxed. It's helpful for patients who have a dental phobia or are receiving extensive treatment. A dentist can also advise a sleep study near you in Hudson after checking the patient's erratic sleeping patterns.
3 Categories of Sleep Dentistry in Hubbard:
Minimal, moderate, and deep sedation are the three types or levels of sedation that are commonly employed in sedation dentistry. These are the categories in sedation dentistry.
Oral Sedation:

Oral sedation is a type of moderate sedation that is also employed in sleep dentistry. Here tablets are used. When you are sedated with this tablet, you will be closely watched and will not recall the dental treatment. This is ideal for people who are terrified of going to the dentist and can't imagine having any dental treatment done.

Nitrous Oxide:

Nitrous oxide is known by a very familiar term called "laughing gas,". It is a type of mild sedation used in sleep dentistry in Hubbard and sleep clinics. This is a gas that you breathe in through your nose. It makes you feel peaceful and relaxed. When you use nitrous gas, you are fully aware of what is happening throughout your dental procedure. But you are much more relaxed than usual.

IV Sedation:

IV Sedation is a type of deep sedation. An IV is used to sedate you with this form of medication. This sort of sedation makes you feel as if you're sleeping during your procedure. So you won't remember anything.
Advantages of Sleep Dentistry in Niles:
Sleep center in Hudson and sleep dentistry helps many different age groups of people with dental anxiety, fear of needles, acute tooth sensitivity, sensitive gag reflex, feelings of claustrophobia while in the dental chair, unique needs, and more. Dentists frequently adopt this option.
What Transpires in a Sleep Dentistry Procedure?
Before starting your procedure, your dentist will give you tranquil drugs. You'll still need a local anesthetic to numb your teeth and gums, but your dentist will normally do it after you've gotten used to the sedatives.
Conclusion:
Having said all of the above, if you want to avail the finest sleep dentistry service, then our sleep clinic in Hudson is the best choice and surrounding locations. Dr. Charles R. Verbanic at Sleep Easy Dental Spa is among the finest sleep apnea doctors. The team he leads offers the best dental treatments which includes solutions for sleep disorders and sleep dentistry services. Dr. Charles R Verbanic and Sleep Easy Dental Spa provides services across all these locations: Youngstown, Austintown, Girard, Hubbard, Niles, Hudson, and Liberty Township. Browse through our website of Sleep Easy Dental Spa to gather more information. Call us at (330) 759-4550 to arrange for an appointment right away.
---