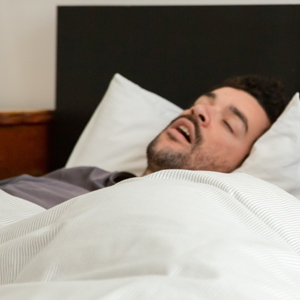 We all have some sleep disturbances at times. We tend to wake up in the middle of the night, crave for sugary items at midnight, have irregular sleeping patterns, etc. At times, such irregularities are quite natural for all. But regular irregularities can lead to insomnia which needs treatment. Another sleep disturbance syndrome is sleep apnea. In our previous blog, we have explained 3 sleep disorders that need to be diagnosed at a sleep clinic in Youngstown. Read on to know the long-term effect of Obstructive Sleep Apnea.
About Obstructive Sleep Apnea/OSA:
Among all types of sleep apnea, obstructive sleep apnea is a common type, and a potentially dangerous one. This occurs when the throat muscles expand and contract during sleep. This blocks the airway which can also stop your breathing. People with heavy snoring might often suffer from obstructive sleep apnea, but not necessarily. A reputed sleep clinic in Hudson can guide you if you display any signs which indicate the presence of sleep apnea.
Potential Danger of OSA:
If left untreated, OSA can potentially be very dangerous to your life. With this problem, a person often wakes up coughing in the middle of their sleep. Thus, you should undergo a sleep apnea treatment Hudson without any delays.
5 Long Term Effect of OSA & Sleep Apnea Treatment in Hudson:
Cancer and Stroke:

It has been observed that people with sleep apnea have been diagnosed with cancer. Cancer rates are 2.5 times higher in people with sleep apnea. This information was found in the Journal of Clinical Sleep Medicine, 2014. In fact, such individuals also have a greater chance of heart attack. To avoid any further delay, visit a sleep center in Hudson to get it treated.

Depression:

Untreated sleep apnea can lead to anxiety and depression. Mental wellness becomes an issue for patients who are not able to experience proper sleep cycles. This is one of the common sleep apnea symptoms in Girard.

Early Death:

Studies reveal that long term OSA patients also displayed a rate of mortality which was four times above those patients without any sleep disorders. The prescribed sleep medicine in Hudson can always cure you.

Oral Impacts:

OSA can also have a long term effect on teeth like TMJ disorder, worn-out teeth and broken dental restorations. Because your body is deprived of proper oxygen supply with OSA, you tend to clench your teeth hard during sleep. This leads to enamel wear-off and other dental issues mentioned above. Get yourself checked in a leading sleep center in Youngstown.

Brain Function Is Impacted:

University of California – LA School of Nursing researchers have observed that with OSA, two important chemicals in the brain go through significant changes. These impact day-to-day life of the patients. Thus, you should visit a sleep clinic in Youngstown to avert any complexities.
Conclusion:
To avail the most reliable treatment for OSA, consult Dr. Charles R. Verbanic practices at Sleep Easy Dental Spa with an advanced dental sleep treatment center in Hudson. Dr. Charles R Verbanic and his Sleep Easy Dental Spa clinic serves the following locations: Austintown, Liberty Township, Girard, Hubbard, Youngstown, Hudson and Niles. Browse through our website to arrange for an appointment. Call us at (330) 759-4550 to have a conversation right away.
---